Are you searching for the best gaming laptop under 80000 with i7 Processor?
If yes then you are at the right place.
Gaming is entertaining and very fun but also gaming laptops ( which can handle powerful games like Assassin's Creed, Deadpool, call of duty, and Fortnite) are very expensive. In India.
To smoothly play heavy games you just need a gaming laptop where all the following specifications to be present.
From here we will give you some best gaming laptops under 80000.
You may be a thing about that What graphics card do I need for gaming? Be patient we talk about in the latter.
So that in this article we listed the top 5 Best Gaming Laptops under 80000 in India based on the processor performance, support high-end games, and best GPU.
Yeah, I know you invest a lot of money to buy the best gaming laptops, so you have to pick the best one.
To pick the best one is a little bit difficult for a beginner.
Don't worry, here we are giving you the Buying guide and FAQ which will help you to pick the best one.
if you do have not enough money then you can check the best gaming laptop under 80000 articles. May it halpful.
Without wasting your time let's begin now.
Which is the best gaming laptop under 80000 with i7 processor in India?
Which is the best gaming laptop under 80000?
1. Dell G3 3500 Best i7 Gaming Laptop Under 80000
Dell G3 3500
Specification
CPU: 10th Gen i7-10750H
CPU Specs: 12MB Cache, 5.0 GHz, 6 cores
GPU: GTX 1650 4GB GDDR6, Game Shift Technology
RAM: 8GB DDR4 2 Channel 2933MHz
SSD: 512 GB M.2 PCIe NVMe
Display: 15.6-inch FHD 120Hz
Battery: 10 hours battery life
Pros
Game shifting technology
Advance Cooling features
Premium quality
Powerful memory 
Support Upgradability
Free 15 month McAfee Security subscription
Cons
No USB C
No 144 Hertz and 4K support
Here we going to review the Dell G3 3500 i7 gaming laptop, really this is a very awesome gaming laptop and also this will take you to next level of gaming experience.
This dell g3 3500 is a 2020 model, an 80k budget gaming laptop where it comes with an i7 processor and SSD and with a dedicated GPU. Let's look in brief.
Design
In the Indian model, this G3 3500 comes with a 120 Hz refresh rate, I wish the brand comes out with a 144hz refresh rate.
Don't worry guy you can use a 144hz external gaming monitor.
Yes, all the overall body is made up of plastic but trust me guys the plastic quality is premium and good durability, and long-lasting.
The display comes with a 15-inch gaming display, and the bezels are very thin, the viewing angle and the level of the contract are very good.
On the keyboard side, this has come with a fancy RGB light and the keyboard has a good enough travel distance, while you gamming you feel better.
The keyboard, it has a power button and a fingerprint lock, which are give a very impressive look.
Well come to the trackpad is good, there is no glass made up of plastics. But I played in my external mouse, also I recommended to you, not running for a good trackpad on the gaming laptops.
Processor
It has mounted with an intel I 7 10th generation processor which is an emphasis on gives powerful and interrupt gaming performance.
This has supported 6 cores and 12MB caches memory and giving up to 5 GHz frequency.
Dell always gives powerful processors and with great innovative technology.
Storage & RAM
This dell g3 3500 i7 10th gen comes with 8GB ram and 512 SSD, interesting is that both are supports upgradeability.
Really the powerful DDR4 technology RAM gives an impulsive performance to the gamer.
Gaming Performance
It has built with an NVIDIA GeForce GTX 1650 4GB GDDR6, literally, this GPU gives a very smooth performance.
This laptop is basically designed for gaming purposes where this has an Alienware command center where this will help you to solve the problem and manage the gaming time so that it improves your overall gaming performance.
The most interesting feature is that is G key, This will increase the overall gaming experience to the next level.
You just need to press the G(F7) key on the keyboard and then some settings will open, next is you just enable the G mode by clicking the key on the top-right corner.
Boom, this will activate some features like the Cooling Fan speed, and the temporary will affected. Really this feature is a very cool feature.
Features
Cooling Technology
This G3 supports a dual cooling fan both are opposite sides. The cooling crystal is excellent. There is no overheating issue so you can enjoy your favorite games smoothly. Both fans are faster so they don't gives any heating issues.
Captivating Sound
This has used 2 stereo speakers in the button line and uses 3D Nahimic audio technology, This audio technology is specially designed for gamers. which delivers very immersive gaming sound, while you play yours feels in the real world.
Is Dell G3 3500 worth it?
Yes, in my case it satisfies me where the gaming performance is impressive and with powerful CPU and GPU and well cooling management technology and with has gaming shifting technology.
If you look at the overall dell g3 3500 i7 10th gen specification, this has all the ports but there is no USB C port. This laptop is the best gaming laptop in India under 80000.
Acer Nitro 5 AN517-51
Specification
CPU: 2.60 GHz Intel i7-9750H 
GPU: GTX 1650 4 GB GDDR5
RAM: 8GB DDR4
Storage: 1TB HDD
Display: 17.3-inch FHD 120Hz
Battery: 8 hours Battery Life
Pros
Incredibles GPU And CPU
Excellent Audio 
High-quality RGB and Good key travel
Value of money
Cons
No fingerprints
Battery life needs improvement
Acer Nitro AN515-55 is one of the best premium look and mid-range best gaming laptops under rs 80000.
This comes with a high-quality CPU (intel I7) and GPU so that this Acer Nitro 5 gaming laptop gives an incredible gaming performance.
Let's have a brief look at the Acer Nitro AN515-55 review.
Design
This is a 2019 model, in this Acer Nitro 5 series both models are made with a plastic body but with this plastic both look like a premium model. On the center, the Acer logo is bright enough that's gives a model gaming look.
While you opening the display you feel a little bit of flex on the both chassis and the lid.
It comes to the display size, it comes with a 17-inch which is much more than enough for play complex games.
Don't worry these gaming laptops have come with a 144-hertz refresh rate. The bezels are thin, in the top bezels, it has mounted a 720p camera.
Yeah, there is no fingerprint sensor, but this supports the RBG. The travel distance of the key is good and very user-friendly. And the trackpad is also good.
GPU & CPU
It has mounted a six-core of intel i7 9th generation processor which has supported 4.50 GHz clock speed which gives a max turbo speed. As in the budget's price the processor is good as well as powerful.
As talking about the GPU, it has mounted the next generation of GPU which is NVIDIA GeForce GTX 1650 GPU. This has much more enough power to runs smoothly of heavy rendering games.
Storage & RAM
This gaming laptop has comes with max speed and massive storage. Where this has comes with 2 slots of M.2 Gen 3 x 4 PCIe SSDs, this is using Raid 01 NVMe technology.
With 32 GB of DDR4 RAM, it gives a smooth performance. Both SSD and RAM ar support up-gradation.
Gaming Performance
Where coming up to the gaming performance, as you know this has dedicated 4 GB of GTX 1650 GPU. I tested the Battlefield with 88fps, the witcher 3 with 78fps, and Tom Clancy's Ghost Recon Wildlands at 62 fps, it runs wells.
Feature
Cooling
The cooling management is impressive but not like the dell G3 series, here it has 2 cooling fans in a single place. While you played for more time it faces some heating issues.
Sound
It comes with a DTS X Ultra compatibility which will allow you to experience more precise sound with the 3D acoustics front. You can easily hear your opponent's footsteps clean and clear.
Is Acer Nitro 5 laptops worth buying?
This Acer Nitro AN515-55 is fine for browsing editing. If you are a normal gamer then this is fine, no one faces any heating issue. This is the best i7 gaming laptop under 80000 in India.
Lenovo IdeaPad 3
Specification
CPU: 5.0 GHz 10th Gen Intel Core i7-10750H  
GPU: GTX 1650 4GB GDDR6
RAM: 8GB DDR4 2933, Upgradable 16GB
Storage: 1 TB HDD + 256 GB SSD
Display: 15.6 FHD 60 Hz
Battery: 7 hours Battery Life
Pros
Fast processor and storage
Incredible CPU & GPU
Solid keyboard and trackpad
Windows 10 License for Life Time
Very light Weight
Excellent Gaming Experience
Powerful cooling technology
Immerse Dolby Audio
Cons
Comes with 60 Hz Refresh Rate
Battery needs to be Improve
This Lenovo IdeaPad Gaming 3 81Y400VAIN is another best budget gaming laptop. With a 10 generation I7 processor it delivers excellent gaming performance with fast SSD and Wi-Fi 6.
Let's see what is inside it.
Design
This has a 60hz refresh rate of 15.6 inches FHD display. On the top bezels bar, it has mounted a 720p HD camera so you can easily live-stream your gameplay.
Both side bezels are very thin and the viewing angle is perfect but look at the color contract needs to be improving if you're using this laptop for photo or video editing.
It coming to the keyboard, it has supported the very attractive backlight, including the volume controls and the travel key distance is very good when playing you feels very comfortable.
The trackpad is made up of plastic support multifunction, but I don't like its clicking sound. Don't worry here the Lenovo brand gives a gaming mouse, while helps to increase the gaming attraction.
CPU & GPU
Its great powerful GPU of Nvidia GeForce GTX 1650 4GB GDDR6 graphics card gives a high-end gaming performance. This is this GPU that is used on the Acer Nitro 5 AN517-51.
As you know this GPU is very well performed. No doubt you will get the best i7 gaming laptop under 80000.
Gaming Performance
While talking about the overall gaming experience is excellent. With a Q control technology gives a high gaming performance.
To activate this you just press the Fn+Q key, then boom you will switch with performance mode.
This technology helps to overclock the CPU and GPU and boost the internet speed and the cooling speed.
While I tested some of the most demanding games like Fortnite, Persona 4 Golden, Risk of Rain 2, Hunt: Showdown, these are run well and smoothly.
Features
Storage & RAM
Here both HDD and SSD are available, it comes with 1 TB HDD + 256 GB SSD along with 8GB RAM DDR4-2933. Also in the future, you can expandable.
Cooling Technology
It has impressive cooling technology, so thanks to Lenovo.
It uses 5th generation thermal engineering which has used a dual-action fan, which enhances your CPU and GPU temperatures and gives you a better gaming performance.
In another word, this is a better cooling system that defeats gaming heating.
Speakers
This comes with an immersive Dolby audio, which supports HD audio. This sound technology allows amplify your experience with a rich surround sound and gives clean & clear-cut audio quality so that you can easily beat your opponents.
This is the best gaming laptop under rs 80000 which is available in Indian Market.
Should I buy It?
This is the Best Gaming Laptops Under 80000 with dual storage technology.
HP Pavilion 15-dk1151TX
Specification
CPU: 10th Gen Intel i7-10750H 5.0 GHz Turbo Boost 
GPU: GTX 1650 4GB GDDR6
RAM: 16 GB DDR4(expandable)
Storage: 512 GB SSD
Display: 15.6-inch FHD IPS 60 Hz
Battery: 10 hours Battery Life
Pros
Powerful Performance
Very Lightweight
Support fast charging
Both HDD & SSD are fast and support upgradations
Premium Build quality
Cons
Battery Life needs to improve
The speaker grill is on the front side may be a high chance to get damaged by the dust.
Single Backlight colors
This HP Pavilion Gaming 15-dk1151TX is a 2020 gaming laptop, which comes with a powerful CPU with a high-performance GPU is available at a budget price level.
Here we cover the HP Pavilion Gaming 15-dk1151TX review and discuss is this creates a valuable gaming laptop or not. Let's take a look inside.
Build Quality
First look at the build quality, in this 80k price range most gaming laptops body comes with plastic, also this HP Pavillion made up with plastic, but where your look at the plastic quality is very high-quality materials gives a premium looks. Guys there as not support glassy, so be careful with the cratches.
Design
This is a very impressive design and very thin and lightweight. With 15.6 inches, IPS FHD display.
It has narrow edges support and the max refresh rate is 60HZ. Which are cons for a gamer. I wish in this budget they at least give 144hz refresh rate display.
This has come with a 720p camera on the top bezels, this is well for live streaming, if you are a gamer then you liked it.
The keypad has good enough travel distance and is very comfortable, this has come with a backlight, sorry guys this has comes with only single-purpose colors, who have loved this purple color they definitely love these gaming laptops.
The trackpad is perfect and very sensitive with support multi-functionality. Guys, there are no fingerprint supports. Most of the gamer doesn't want this, but if you are like me then you want to this will protect.
No doubt you are lucky, you will get the best gaming laptop in India under 80000.
CPU & GPU
This has mounted with an intel i7 10the generation processor with a dedicated 4GB NVIDIA GeForce GTX 1650.
The CPU has a max clock speed is 5.0GHz also uses turbo boost technology for boosting the overall performance.
Talking about this GPU this is the newest gaming processor, which is very powerful as compared to the other GPU. This GPU runs modern games very smoothly.
Storage & RAM
Where it has mounted with a powerful 512 GB PCIe NVMe M.2 SSD and with 32 GB Intel Optane Memory.
Along with 16GB DDR4 RAM, both are support upgrades. so you can get an ideal gaming performance.
Gaming Performance
I tested some of my favorite games such as Dirt Rally, Star Wars Jedi: Fallen Order, DOOM Eternal, Apex Legends, FIFA, GTA V Premium Edition with high settings it gives me a very well performance.
There are no lags and heating issues.
Features
Speaker
The speaker gives a perfect positional sound. It uses the Hp audio boost technology with a b&o speaker. The output audio is very decent quality, while your play gaming you feel like the audio is coming out from the display.
Here the speaker grill is in the perfect position which is on the keyboard upper section. Most of the gamers don't like this position they prefer the speaker to the backside of the laptop.
Cooling technology
There is no heating issue I faced. It uses a single thermal cooling fan that has enough capacity to maximize the airflow and gives stability optimized performance to you. So that you can easily play your favorite games for long hours of time.
Should I buy it?
I said yes, this gaming laptop is the perfect best gaming laptop in India under 80000 rupees, it has offers you a high gaming optimized performance with the i7 and GTX 1650.
Lenovo Legion Y540
Specification
CPU: 4.5GHz 9th gen Intel I7-9750H
GPU: GTX 1650 4GB GDDR6
RAM: 16 GB DDR4, Upgradable 32GB
Storage: 1TB HDD + 256 GB SSD
Display: 15.6-inch FHD IPS 60 Hz
Battery: 8 hours Battery Life
Pros
Incredible Gaming Performance
Very Naro bezels display
Premium and minimalistic design
Color Constancy is very accuracy
Support upgradations
Windows 10 Home with lifetime validity
Cons
Battery backup needs to improve
Only 60Hz refresh rate
Finally, we riched at our final best gaming laptop under 80000 with an i7 processor.
The Lenovo Legion Y540 81SY00SLIN is a Premium Looking Gaming Laptop, it uses a powerful GPU that gives you ultra gaming performance.
if you wanted to be the best budget gaming laptop with high performance then this is the perfect gaming laptop for you. Let's takes a brief look at the details.
Design
This has been inbuilt with a 60Hz refresh rate 15.6-inch FHD screen and used Anti Glare technology on the display. The contact level is very accurate, and the viewing angle is also ok.
The keypad and trackpad are also well designed, the travel distance of the keypad is well, and the gaming feals are excellent, while you played you feel very accounting feeling.
With a backlight keyboard, this laptop is boosted the gamer's attraction.
GPU & CPU
It has mounted 6 Cores of 9th generation core Intel I7-9750H which max clock speed is 4.5 GHz. It used 12 MB of smart cache memory.
The Lenovo Legion gives excellent performance with the GTX 1650. This laptop is one of the best i7 gaming laptops under 80000 in the Indian market.
Talking about the GPU it comes with a dedicated 4 GB NVIDIA GTX 1650 Graphics card. This is a perfect budget GPU.
This laptop can handle heavy usage software and games, such as Illustrator, Programming, Photoshop, photopia, Adobe XD, AutoCAD, and games like call of duty, war, spider game, Avengers, etc.
Storage & RAM
Guys this gaming laptop gives SSD with HDD where the HDD capacity is 1 TB used for storing the games, and the 256 SSD is used for boost the os and the games.
Where it uses an 8 GG of DDR4 RAM. Both are comtibilabe for upgradtation. So that in the future you can upgrade your gaming performance.
Gaming Performance
Here the overall gaming performance is incredible, with the 6oHz it runs the heavy games smoothly.
It uses so much battery life make sure while you playing connect the charger also it will help to boost your gaming performance.
Features
Cooling system
I tested some heavy games like DOOM Eternal, Apex Legends, FIFA, Call of Duty at the high setting, you can't believe this gives an outstanding performance and run very smoothly without any lag.
One of the interesting features of the Lenovo Legion Y540 is it uses a dual cooling channel and 4 thermal vents for the fast cooling system.
Because it uses 4 thermal vents, both the CPU and the GPU are cooler individually.
really you can't imagine when I played call of duty with a high setting for 5 hours it runs decently, with no heating issue.
Speaker
The speaker is mounted on the front side. It used the Dolby atmos technology on the speaker, where the speaker output is very well when you playing your favorite games you feel like a real works space.
Also, this has enough sound and bass when watching movies or web shows,
Should I buy Lenovo legion y540?
Yeah I know finally this question will be arising in your mind, If you are asking me, I said yes if you had an 80k budget then you should invest in this best gaming laptop under rs 80000.
The overall gaming experience is very good as compared to the other. I love its cooling management technology.
What is the best way to buy the best gaming laptop under 80000?
In the market there are so many varieties of gaming laptops are availing with different price tags.
Gaming laptops are so expensive so make sure before you had good enough knowledge before you buy.
So, this buying guide will help you pick the perfect and best gaming laptops, make sure you have considered the buying factors while you buying.
Following are the factors that you consider before you buy a gaming laptop online or offline. Let's take a brief look.
1. Design
The first thing is buying a gaming laptop is design, where a 15-inch size is the perfect gaming laptop with a budget price. these are very portable and lighter than 17-inch laptops, so you can easily carry them anywhere.
Where in the 17-inch gaming laptops benefits are wight bigger and the screen size is bigger support desktops replacement, you get a better cooling performance and of course more storage slots so you can increase the overall storage capacity.
2. Upgradability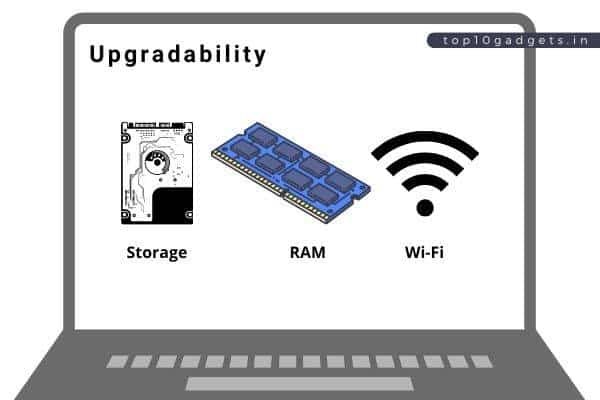 a. Storage
In the case of gaming, Storage has played an important role to smoothly run your gaming and gives a masterful experience. Most laptops come with dual Storage capacity, where one is mounted ie. SSD.
Make sure you had taken the gaming laptops which have supported the upgradability option of Storage where ie. SSD or a mechanical hard drive.
b. RAM
The next thing is RAM, most of the premium and mid-range gaming laptops are come with dual-channel RAM, whereas the budget laptops come with One RAM, in that case, you need to buy another RAM to upgrade the gaming performance of your laptop.
In the gaming markets, the laptops are supported with 16-32GB RAM upgradability.
c. Wi-Fi card
And another next thing is the WiFi card. Now time is WiFi 6, which gives you ultra-level speed and coverage of the gaming experience.
Some of the gaming laptops don't give WiFi 6 cards if your budget laptops don't have then make sure it supports the upgradability.
3. GPU & CPU
For gamming, a GPU is most important to deliver a high performance. These are not mattered where you buy an i5 or i7 or Ryzen processors. You have many choices which have a dedicated GPU.
For a budget gaming laptop, GTX 1650 is best, if you can afford a little more money then you should take GTX1660 TI. ( Check GTX 1650 vs GTX 1650 Ti )
4. Heating Management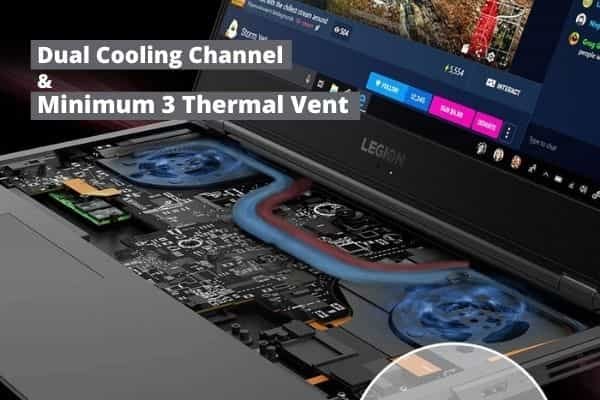 This is an important factor for a gamer, Where you should buy this laptop which has 2 thermal cooling fans make sure both are on opposite sides so that you have a better chance of having better cooling.
In the case of both fans are in a single place, you may take it but these gaming laptops are not giving you better cooling. Or in case if your 80k budget gaming laptops have 1 cooling Fan then don't buy it.
5. Display
For a gamer display, refresh rate is most important, if a laptop has a good enough refresh rate then it delivers a great gaming viewing and plays experience. In my opinion, a 15-inch laptop is perfect for budget laptops, they come with a Full HD IPS display that supports a 144 Hz refresh rate.
If you are looking for a 4K display then you should take a 17-inch laptop which is a high price.
6. Speaker
Make sure your 80k budget laptops give a much enough louder sound, this will give you a real gaming experience.
I should be recommended you take a gaming headset which headset are better than speakers delivers your super sound quality.
7. Keyboard
One of the eye-catching factors, this helps, hoe you interact with your games. Where you have t take that has a good enough travel distance of 2.5 cm and along with a great RGB.
The trackpad is not necessary if you are a gamer, I recommended you must have bought an external mouse. so you can feel the gaming experience.
8. Port
Port's, I don't prefer this because most of the gaming laptop has come with all ports which you need such are USB, Sd card slot, charging, headphones slots, Rj 45, USB C, and HDMI.
Best Gaming Laptop Under 80000 In India FAQ
1. Is the i7 laptop good for gaming?
Yes, these are not only good for gaming but also this is running high-end games very smoothly. Also, these are supports for multitasking, heavy usages like video and photo editing.
2. Which is the best laptop under 80000 in India?
3. Are gaming laptops worth it in 2022?
Yes, in 2022 a is gaming platform is rising as skyrockets. Where most of the youngsters, children are playing gaming. So that you need a gaming laptop to improve your gaming skills. Yeah, you can take a gaming PC.
4. Which gaming laptop should I buy in 2022?
If you are searching for budget laptops that are under 80000 and having incredible gaming performance with an Intel i7 powerful processors and a lot of other features, then you should go for our listed top 5 gaming laptops.
5. What is better for gaming a 60Hz or 120Hz or 144hz display?
More refresh rate means more refresh a displaying image on the panel so that the laptops or PC can give you a smoother and fast gaming experience.
The 144hz refresh rate display is best for gaming as compared to the 60Hz & 120Hz.
If your budget laptops don't have a high refresh rate then you can take an external gaming monitor at your affordable price.
6. Why is the battery backup poor for gaming laptops?
Gaming laptops are forced on the gaming performance so they give a lot of gaming features according to the budgets. To give a high gaming performance the gaming features and hardware use much more battery. So that in gaming laptops are low battery backup.
7. Which is better for gaming Intel i7 or Ryzen 7 Processor within 80000?
Intel i7 is best for gaming as well as for multi-tasking, where Ryzen 7 supports both but not like Intel i7 performance. Check out the Intel i7 vs Ryzen 7
8. Is SSD come with a gaming laptop?
Yes, Basically it boosts up your overall gaming experience with the help of its faster technology. In general budgets, laptops have 512 SSD also comes with HDD. In the future, you can upgrade the SSD.
9. How much RAM do you need for gaming?
Generally, 8 GB is good for gaming, if you are a pro gamer who plays heavy games for long times then you should use 16 or 32 GB of RAM. Make sure your laptop has supported the upgrade.
Conclusion
Here we discussed all the best i7 gaming laptops under 80000 rupees, as you knew above these all are having powerful GPU and great high-end features which you are looking for. And has come with an awesome clock speed, cooling system, and well refresh rate.
If you asking me my favorite best gaming laptops, I loved the Lenovo Legion Y540 and Dell G3 3500, yeah I know you are shocked why I'm picked these two because I loved these two cooling management systems and the gaming performance and also have some other reason.
To know just go to our review section and check out.
I hope you will get your best budget gaming laptops from our listed laptops.
If You have any doubts related to this just comment below otherwise check out our Buying Guide and FAQ section may have the problem solved.
Also Read