Oh, My Knee is Paining! Sound Familiar?
In the current day, most people complained about their bad knees and back pain problems, who are workouts in the Gym or at home.
Well, knee pain is made very irritation to you. But there is a solution to overcome this problem using a perfect exercise bike.
People are complaining about their knee problems while doing workouts, but they don't use a suitable and compatible exercise machine.
If you do not resolve this problem or negligible then over time this little problem makes a bomb. So when you got this problem contact the trainer or change the exercise bike to a new compatible one.
As I told you every bike comes in different sizes some are large and some are smaller means Some people are compatible with some bikes but others are not.
In order to find the right bike for your compatibility, you have to research a lot. And the most common way is that go to the shop and practically use them and look whether the bike is suitable for you or not.
But you are in the Top10gadgets.in the family, so you don't do any operation, we are done with your work means here we have listed some best exercise bikes for bad knees in different categories.
Let's see the top 2023 list of exercise bikes for knee problems.
Best Exercise Bike for Bad Knees In 2023
Here we are going to see 2 types of bikes that will help your give relieve your bad knee problem.
Upright Bikes For Bad Knees
In the first list of Upright exercise bikes, we have the PowerMax Fitness BU-200. It is one of the best rating and most papular bikes on amazon and also this is a budget bike from the PowerMax brands.
By the way, Powemax is one of the popular brands in the Indian fitness categories in 2023. PowerMax brands deliver a lot of very popular fitness equipment to the market and the PowerMax Fitness BU-200 is one of them.
The BU-200 is an upright exercise bike that is most used in the home gym, it can support upto 100kg of max user capacity.
This is a non-electric ideal home workout bike that looks in very good shape and stylish. From that this bike operates with magnetics and the max goes of 2 levels of resistance, well this is a good upright exercise bike for your bad knees.
Powemax BU-200 has all the functionality like a fully adjustable seat and LCD and adjustable foot straps.
Pros
Easy To Install
Value for money
Simple and stylish design
Adjustable mechanism
MAX supports 100kg
Tension control mechanism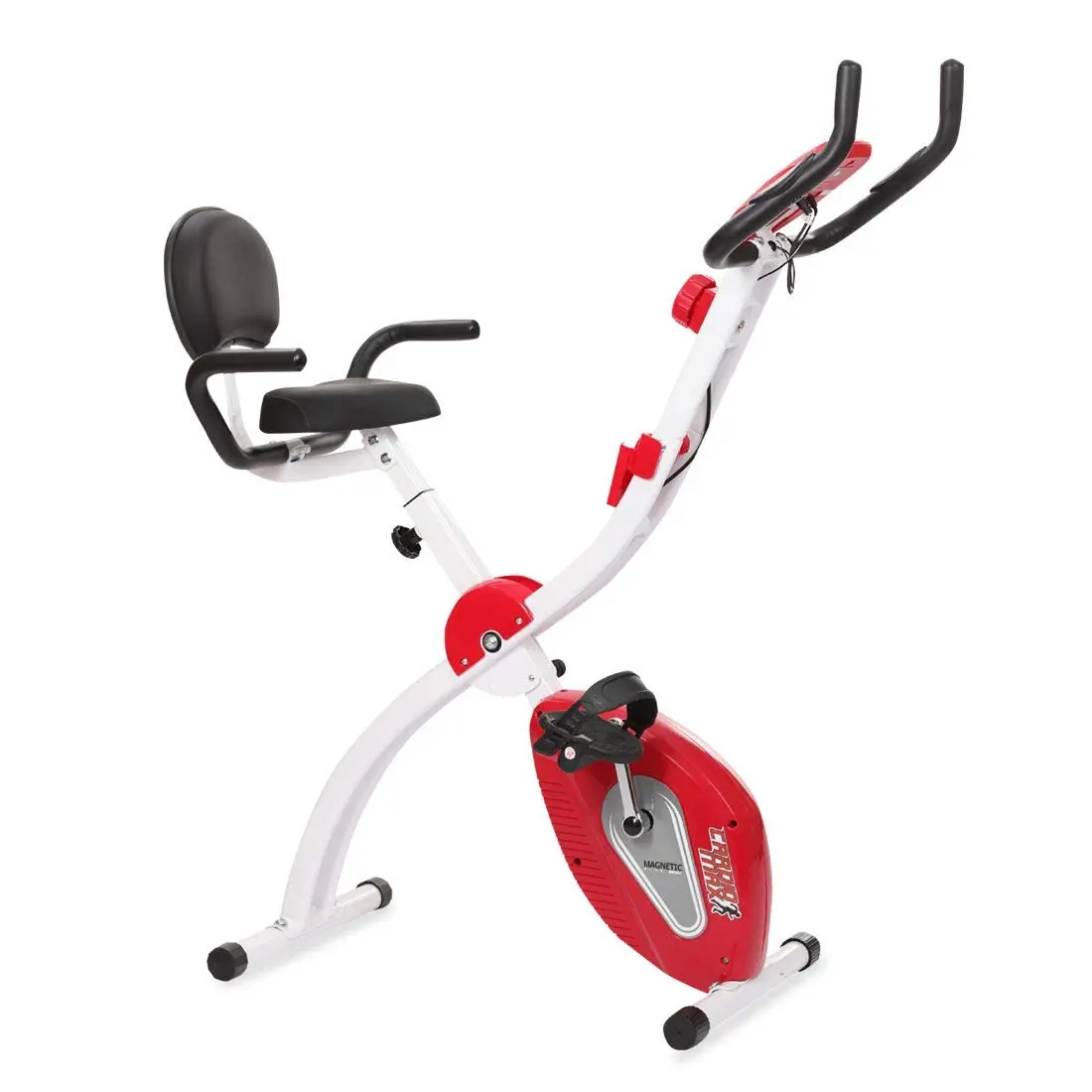 On the second list, we had the Cardio Max JSB Fitness Bike from the brand Cardio Max. The brand Cardio Max is also very papular in India.
This Max JSB fitness is a foldable exercise bike is comes with backrest support a hand rest and a little comfortable seat.
Well, here from the Home Gym you get a smooth biking exercise with 4 kg flyweight and 3 cranks.
The bike came up with 1 Year JSB National Warranty. There is no installation service so you have to install it yourself using the official video of the installation.
In addition, you get mini LCD monitors and Non-skid foot pedals with adjustable foot straps for your safety purpose.
With the 8-level tension controller, you got a comfortable and effective exercise.
Pros
Foldable & Portable
8-level tension controller
100kg Max weighting Capacity
Smooth cycling experience
Backrest support
1 year of warranty
Video installation support
There is another exercise bike you have to look for that is Cockatoo CUB. The bike came from a very popular brand called Cockatoo.
This is a non-Indian brand but the equipment quality and experience of the brand are very good. Once you buy this brand item you never forgot its brand.
The Cockatoo CUB is a budget under 15000 bikes packed with all the necessary features of the workouts.
The home gym bike has a magnetics-breaking stem, and 8 levels of resistance levels, so here you confirm you get an intensive workout from this bike.
No worry about tracking your whole day's workout tracking activities. The 6-inch LCDs your speed, time, calories, heart rate, etc.
With video installation support you easily assemble this bike at your home. Apart from this, the bike has come up with a 1-year manufacturer warranty.
Pros
Simple stylish Design
8-Level resistance and magnetics braking system.
LCD monitor
Easy installation
Flywheels 3 kg.
2. Recumbent Bike For Bad Knees
Here we are discussing all the best recumbent bikes that will help you to save and rehab your bad knee problem.
On the forest list, the Reach Classic Recumbent Bike comes. Reach is a very popular fitness brand, it offers high-quality and sustainable products.
Coming to the features and specifications of the bike, this comes with a Magnetic Resistance System, 100kg of maximum weight capacity with adjustability feature, LCD, and transportability support.
These features have also come with the other bike models.
Speaking about the out-of-the-box, the bikes are very easy to install, and the display console is very familiar for beginners.
In my local GYM center, I used these bikes, the bikes are so convenient and easy and very comfortable to peddle. I used these bikes for about 45 minutes and used different features and I loved them.
After a few months of use, I faced some issues with the seat, I contact customer services, and the technician replaced the seat within the same day. Looking at the last few years, their customer service is very good as compared to other brands
Pros
Self-installation was easy
Good Customer services
Familiar with Beginner
In the second list, I have added the Kobo RB-1 which is an Indian fitness brand. It is looking very good and stylish perfect for modern people.
As compared to the Reach Classic bikes, the bike is very affordable but also doesn't have some features. But no worry about your bad knee it will recover with a comfortable cycling experience.
The Bike comes with 5kg of flywheels and supports upto 130 kg of user weight, as compared to the bigger Reach classic.
Rather than that the bike supports 2-way pedaling, 3-pc-crank, and flat belts which help to increase your speed and get effective workouts.
If you are not comfortable with the seat position then you can adjust them it offers 7 levels of setting adjustments.
As with other recumbent bikes here you get an LCD, a Pulse sensor on the handlebar, resistance adjustment, etc.
Pros
Assemble is very Easy
Affordable and Value for money
Sturdy and stable during exercise
The flywheel is smooth.
Plastic components but better quality
Customer service is very good
Cons
No warranty Comes with the bikes, you can only replace or return only through amazon policies.
If you are looking for a bike that is sturdy, durable for a longer period, and has a bad knee or knee pain problem then the Welcare WC1588 bike is a good option.
Welcare is an Indian brand, he is building trust for 28 years, so you can trust this brand.
Riding with the Welcare WC1588 on your home is a good idea for rehabbing your bad knee, joint and back pain problems.
This bike offers you comfort, is easy to use, and helps to supercharge your muscles & burn calories, and cardiovascular endurance.
With the help of the LCD, you can measure (Speed, Calories, Distance, and Time) and set the priority of your exercise.
This Welcare WC1588 home-use bike has a heart rate pulse on both handlebars which helps to maximize your workouts to reach your target zone.
This is very unique and different from the above two bikes. Here you get a smooth, quiet, and durable exercise experience.
Also, the foot pedals are well-designed and come with adjustable features so that you feel safer while peddling.
Pros
Onsite assemble by the manufactures
Floor-level adjustable brush to get a stable riding
120kg MAX weight capacity
Easy To use
Value For Money
Adjustable seating is very comfortable.
Stylish with black and gray color. Looks cute
Cycling is very silently, with no disturbing noises
Good For the Senior citizen
Cons
Self assemble takes more than 2 hours
Is Exercise Bikes Bad for Your Knees?
Well, the answer is No. Perhaps Exercise bikes are good for bad knees. It is helping to recover from these knee pain problems as well as it also recovers from bad back pain, etc.
To get out of the knee injury problem cycling is the best way to. Even if you can do cycling daily then it will be better for your knee and health. You will recover from your injuries very quickly.
To avoid knee rehab you have to use the stationary bike which will offer you a low-impact cardio workout.
What Type Of Exercise Bike Is The Best For Bad Knees?
On the markets, there are two types of bikes available to use for rehabbing your bad knees one is Recumbent Bikes and another is Upright Exercise bikes.
Don't worry we will help you to organize the best of the best exercise bikes that are available in the Indian markets Stay tuned with us.
There is no guarantee that if your use these two types of bikes then you will never hurt your knee and back.
An exercise bike can damage your knee as well as other parts like the back portion if you are not using the bike properly.
So you have to keep your mind, that every bike is well until you are using it safely. So before you are using an exercise bike you have to gain basic knowledge of that bike, such as how to operate the bike and how to use it, etc.
Well, I knew what going on in your mind…
Why we can't use the Spin exercise bikes for bad knee rehab?
Well, a spin bike is a type of exercise bike which you can use both in the home gym and the commercial gym. It is specially targeted for the HIIT workout section meaning an advanced workout that is used by the athletes.
In the Air bikes or Spin bikes, here the resistance will increase when you pedal as faster you can. This means you do more cardio also these bikes are having a small seat and do not have any backrest seats, which is a big problem for your body posture. You may hurt here when you pedal faster.
The Behind Reasons Why a Stationary Bike is Good for Bad Knees
As I already told you that the stationary bike is good for bad knee rehabilitation but not always. If you are using an exercise bike no matter which type, in the right way then you are safe and also recover from your injuries.
Here we are discussing Why a Stationary Bike is Good for Bad Knees?
Well, there are several factors that you have to consider to choose a perfect bike.
Factors You Have To Consider
Take a load off the knee
Simple lower-body cardio means you are safer
Whenever, wherever You can do exercise
Dual-action of rotation 
You have to choose the right exercise bike
How to avoid stationary bike injuries?
There is another big question is for you.
How you can avoid injuries while doing a workout with a stationary bike?
In 2023 from the Indian fitness markets, a lot of fitness equipment is available, but for cardio exercise, there are only a few types of equipment available such as a treadmill, cross trainer, and exercise bikes. But here we are discussing only exercise bikes. 
Well, here is a question…
Is biking or walking better for knees?
According to the research, biking is the best for your knees. However, in my opinion, walking on a treadmill is a great way but in terms of using the low impact of knee pain, the exercise bike is the winner.
We had to write artics about the Treadmill vs Exercise bike, you have to read that article then you realize what is the main difference between choosing an exercise bike instead of choosing a treadmill.
However, more than 20+ brands have these types of cardio exercise fitness pieces of equipment. Some of them are very papular and some are not.
The main thing is that no matter how that brand is family and how that exercise machine is good if you will mistake use then you are injured.
To save your body from injuries you have to follow some tips.
How to avoid stationary bike injuries?
Warm up before a workout
Adjust your seat properly
Don't lean too far back or forward
Don't use handlebars if thats too low
Don't be numb to Hot Foot Syndrome
Before using the machine at least you have the basic pieces of knowledge of that machine.
We have already written a full detailed article about How To Prevent Exercise Bike Knee Pain? If you are want to more about then check that article.
Conclusion
In this article, we discuss the 5 best exercise bikes for your bad knee inhuries rehabs. In this exercise cycle for knee injuries, you get a good workout experience as well as all the needed features of the bikes so that without any restrictions you do your workouts.
Out of 5 stationary clues I loved the Welcare WC1588 a recumbent bike and PowerMax Fitness BU-200 upright exercise bike.
No worry it's my point of view make sure you choose according to your performance.
If you have other queries related to this topic then comment down below, as soon as possible we contact you.
FAQ
What is the best exercise bike for bad knees?
Out of the 6 exercise bikes my favorite is the Welcare WC1588, it is a magnetic recumbent bike, and it fulfilled all my fitness requirements such as adjustable features, LCD, high resistance, and convenience to ride. Apart from this, it is available at a very affordable price range.
What type of exercise bike is best for bad knees?
Recumbent exercise bikes are best for exercise for those who are suffering from a bad knee problem. It can do this because it offers a reclined pedaling feature which will not put much pressure on your knee and joint. Also, these bikes help with rehab from back pain problems.
Is an exercise bike good if you have bad knees?
Yes, exercise bikes are good for a bad knee problem. But not exercise bikes only recumbent bikes are best.
How can I ride a stationary bike with bad knees?
When you are cycling you have to avoid HIIT training and hill climbing exercise and continuous pedaling.
Are recumbent bikes bad for your knees?
No, recumbent bikes are not bad for your knees, It Helps To Fix Your Knee, Joint, And Back Pain.
Recumbent bike vs Upright bike for knees: which is better?
Between the two bikes recumbent and upright bikes I would suggest to you the recumbent exercise bike. This is very convenient and easy to use and important is, it never puts much pressure on your knee as well as on your joints.
We are already discussing this recumbent bike vs the best upright bike. On this topic, you can check them.